$14.99
AUD
Category: Education
(NZ Years 6-7) The Basic Reading Skills series aims to help primary-aged children with reading and comprehension using short pieces of writing. Each page comprises a self-contained, one-page exercise, ensuring children only need to focus on one simple activity at a time. This book contains over 60 pages of exercises to build skills such as: Understanding meaning in texts Answering questions based on a text Predicting words in a story Identifying rhyming words Unscrambling anagrams. A lift-out answer section is also included. ...Show more
$17.99
AUD
Category: Education | Series: Excel Advanced Skills
This book is part of the Excel Advanced Skills series, which provides students with more challenging extension work in reading and comprehension. The Excel Advanced Skills series of Reading and Comprehension Workbooks for Years 1-6 will help students improve their reading and comprehension - in English and in other subjects - and become more competent, reflective and critical readers. The book teaches students how to answer the five types of comprehension questions they are likely to encounter during their primary school years: fact-finding, synthesis, inferring, language and judgement questions. This book has been specifically written for the YEAR 2 AUSTRALIAN CURRICULUM ENGLISH COURSE. ...Show more
$17.99
AUD
Category: Education
This book is part of the New Excel Advanced Skills series, which provides students with more challenging extension work in grammar and punctuation. The New Excel Advanced Skills series of Grammar and Punctuation Workbooks for Years 1 Â -6 will help primary school students improve their grammar and p unc tuation Â%in English and in other subjects. This book is speci fically written for the YEAR 4 AUSTRALIAN CURRICULUM ENGLISH COU RSE. Chapters: To the stud ent About this book 1 School excursions 2 So thatÂ,,s how it works! 3 Endangered animals 4 Tales fro m long ago 5 Pirates 6 Healthy living 7 Wonde rs of the world 8 The wonderful world of animation 9 F estivals and holidays 10 Exploring the unknown 11 Ways of communicating 12 LetÂ,,s get creative! 13 The seaso ns 14 Being adventurous 15 WhatÂ,,s making news? < li>16 Secrets of the sea Glossary Answers ...Show more
$14.95
AUD
Category: Education
Excel Basic Skills Money, Time, Fractions and Decimals Years 5-6 will help your child excel in the Australian Curriculum and NAPLAN topics of Money, Time, Fractions and Decimals. Tips, explanations and numerous exercises are provided in each unit to ensure your child gains the necessary mastery of these important syllabus areas. Upon completing the book, your child will feel confident in these topics. ...Show more
$15.99
AUD
Category: Education
Everything is made of stuff. Some things are made of paper, like this book. And some things are made of PLASTIC. If you look around you, plastic is everywhere. Even in places where it's not meant to be. If it drops to the ground, it doesn't rot away - it sticks around for ever. Our world is drowning in plastic, and it's a big problem. Award-winning author-illustrator Neal Layton is here to explain where plastic comes from, why it doesn't biodegrade, and why that's dangerous for animals and humans alike. But he's also FULL of ideas for how you can help! From giving up straws in juice cartons to recycling all we can and taking part in a beach clean, A Planet Full of Plastic will get young readers excited about how they can make a difference to keep Planet Earth happy. This brilliant non-fiction picture book, illustrated in Neal's trademark collage style, is perfect for readers aged 5-7 who love nature and want to help the environment. ...Show more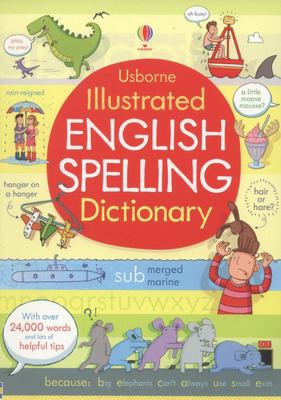 $24.99
AUD
Category: Education
Over 25,000 words are arranged in alphabetical order in this classic English language reference book to help with spelling. It comes with useful tips and hints and rules about spelling on each page. This book also contains ways to visualise words that are easily confused, difficult to spell or that soun d the same as other words. It is part of a range of Usborne reference dictionaries. Additional online resources are available via the Usborne Quicklinks website. ...Show more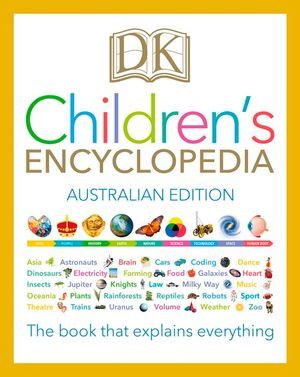 $49.99
AUD
Category: Education
This thorough encyclopedia contains all the homework answers your kids will need, explained clearly and checked by experts. Covering all the key subjects including Arts, People, History, Earth, Nature, Science, Technology, Space and the Human Body, DK Children?s Encyclopedia is a classic illustrated ref erence book, essential for any child who wants to discover as much as possible about the world around them. ...Show more
$15.99
AUD
Category: Education
The aim of this book is to build basic skills in Mathematics. The format of each unit is exactly the same, so that each question covers the same Australian Curriculum topics throughout the book. The content of the qu estions becomes progressively more difficult as students work through th e book. The se quence of units allows for regular practice that will rein force the basic Mathematics skills taught in schools. In this book your child will find: â ¢ Thirty carefully graded double- page units â ¢ Activities that cover Australian Curriculum Mathemat ics â ¢ Four double-page revision units â ¢ Four double-page N APLAN-style Tests â ¢ Marking grids to identify strengths and areas that require further revision â ¢ A lift-out answer section ...Show more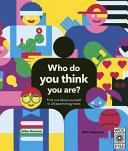 $24.99
AUD
Category: Education
Find out what makes you tick in this stylish book of 20 illustrated psychological tests based on key psychology methods.
$19.99
AUD
Category: Education | Series: Basher
Discover the secrets of chemistry, and learn about the properties of matter and the ways in which they interact, combine and change. "Chemistry "is a compelling guide to a community of characters who make up everything around us.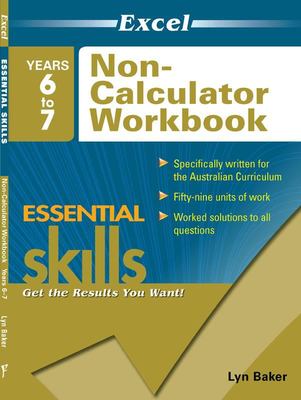 $19.99
AUD
Category: Education | Series: Excel Essential Skills
The Excel Essential Skills Non-Calculator Workbook Years 6-7 has been specifically written for the Year 6 and Year 7 Australian Curriculum courses with a focus on improving numeracy skills. It features questions that a student should be able to answer without the use of a calculator in topics such as ad dition, subtraction, multiplication, division, fractions, decimals and percentages. The book will also encourage the application of strategies from these topics in questions from the following strands of the syllabus: Measurement and Geometry, and Statistics and Probability. In this book you will find: Fifty-nine units of work divided into three levels; Carefully graded exercises in each topic; Units of work that can be used for the Year 7 NAPLAN Non-Calculator Test; Three graded NAPLAN-style Tests; Worked solutions to all questions. ...Show more